Loop mediated isothermal amplification(LAMP) uses Bst DNA polymerase with strand-displacing characteristics to efficiently, quickly, and specifically amplify target sequences under isothermal conditions, achieving 109-1010 fold amplification within 15-60 minutes. LAMP has been applied in the detection of pathogens, parasites, viruses, diseases, and genetically modified products due to its advantages of rapid response, high specificity, simple and easy operation of equipment. It will also be widely used in clinical infectious disease diagnosis, environmental monitoring, food safety and other fields, and has become an ideal method suitable for molecular POCT platforms.
LAMP detection methods can be divided into various methods, including turbidimetry, pH colorimetry, fluorescent dye method (such as NHB, calcein, SYBR Green, Syto, etc.), fluorescent probe method, etc. Our latest LAMP detection kit has high sensitivity, good primer applicability, and excellent performance in specificity, tolerance, and stability. Compared with similar products, it has obvious advantages.
Comparison of LAMP and PCR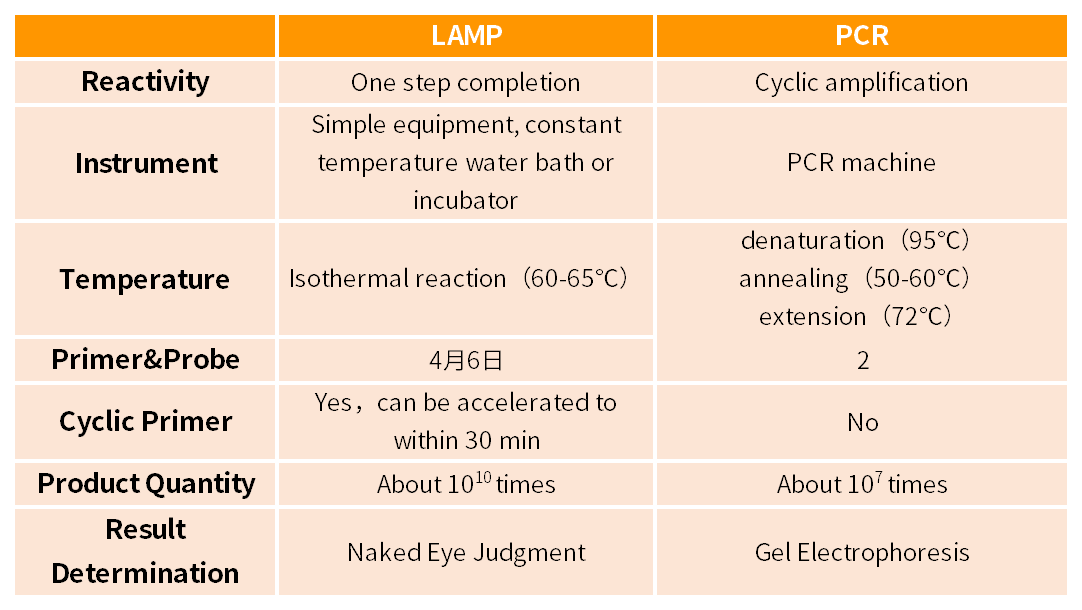 01 pH Sensitive Dyestuff RT-LAMP Kit
pH Sensitive RT-LAMP is a one-step RNA nucleic acid amplification method using visible dye as a sensitive indicator under the isothermal condition of 60-65℃, using constant temperature water bath or ordinary PCR instrument. 30min can determine whether the pathogen is infected by the change of color after the reaction, and the result is more intuitive (positive is orange yellow, negative is magenta). This method is suitable for rapid detection of a large number of people.
Recommended Product:
RT-LAMP pH Sensitive Dyestuff Kit(13906ES)
RT-LAMP pH Sensitive Dye Chromogenic Version Freeze-Dryable Kit(13920)(Freeze-Dryable)
Performance demonstration: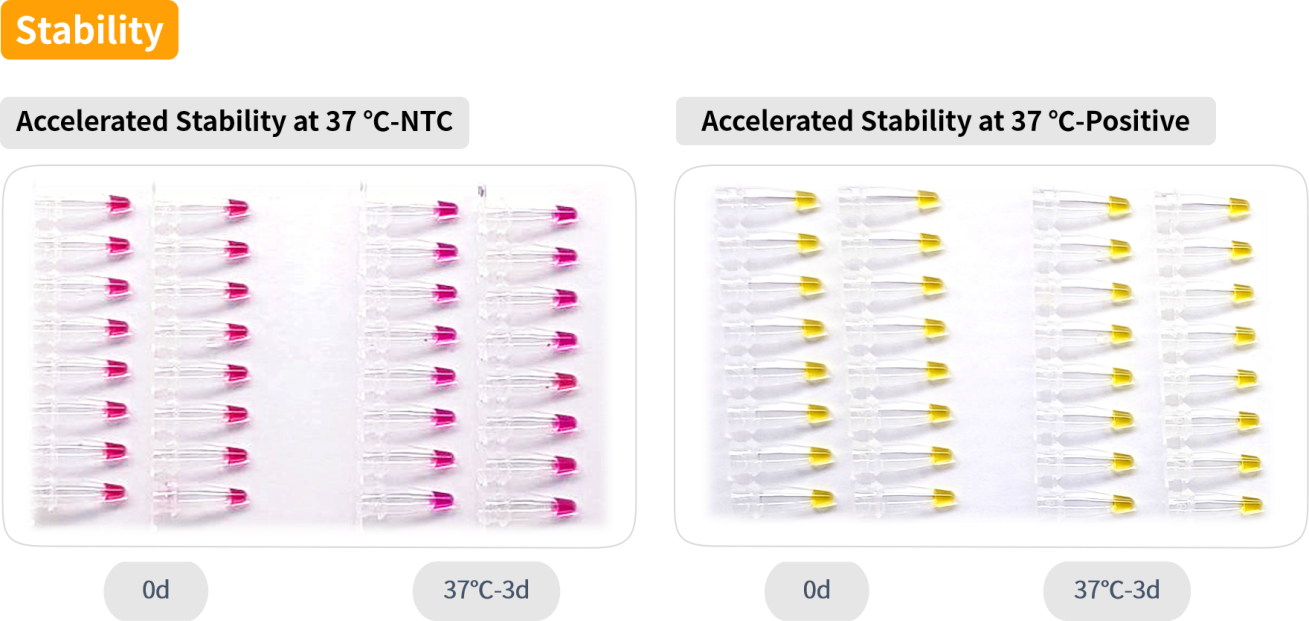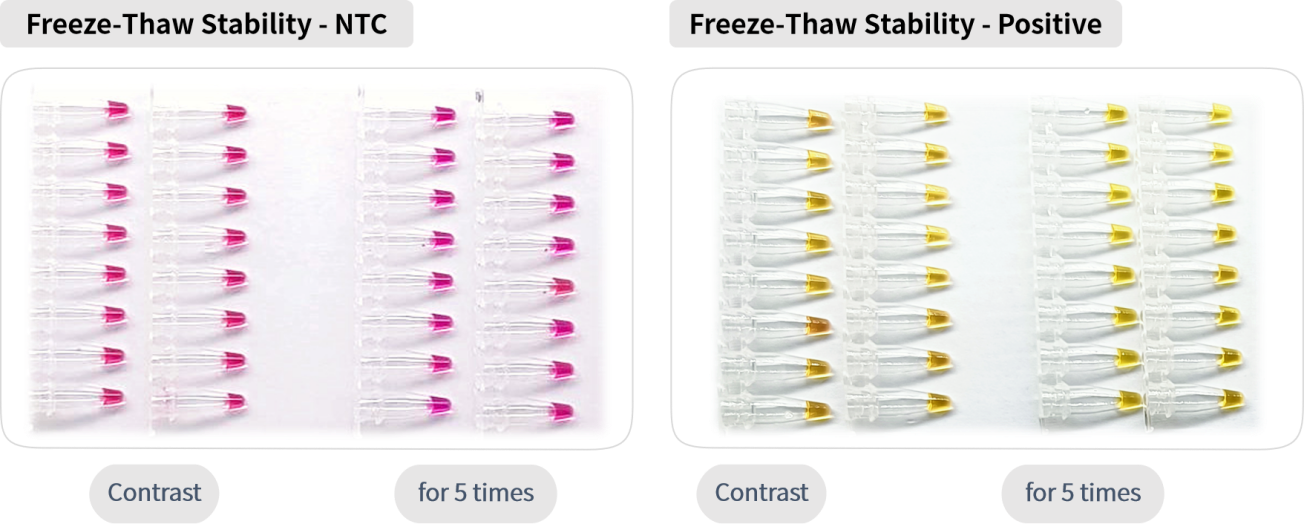 02 Fluorescent Dye Method RT-LAMP Reagent
Fluorescent dye method RT-LAMP uses fluorescent dyes (such as SYBR Green, Syto, etc.) as fluorescent markers. After binding to double stranded DNA in the amplification reaction, the fluorescence signal will be enhanced by 800-1000 times. Use a fluorescence quantitative PCR instrument to test under constant temperature conditions of 60-65 ℃. After about 30 minutes, the amplification results can be used to determine whether the pathogen is infected. It can also be paired with microfluidic chips or portable detectors for rapid detection.

Recommended Product:
RT-LAMP Dye Assay Kit(UDGplus)(13762ES)
Performance Demonstration: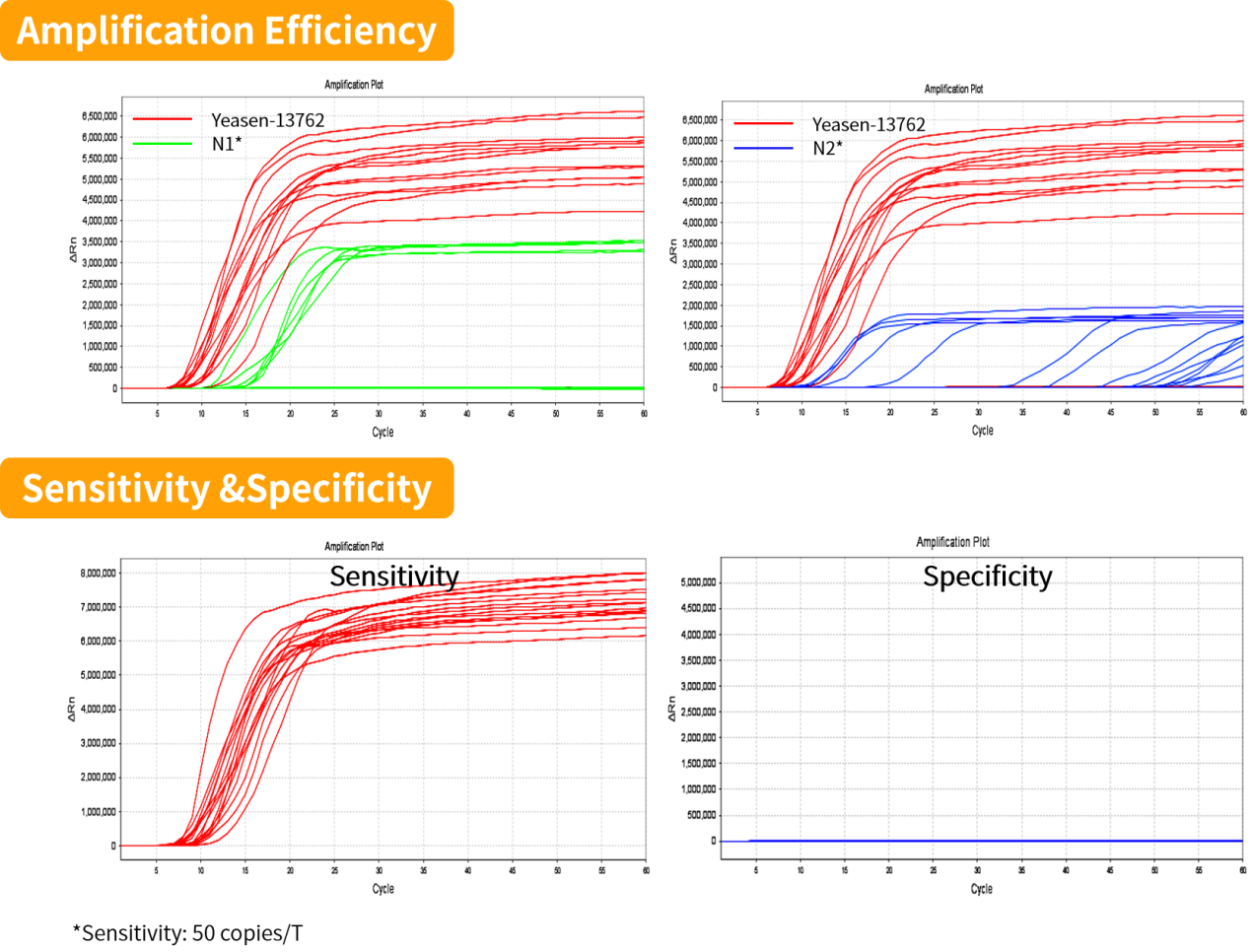 Product Recommendation Guide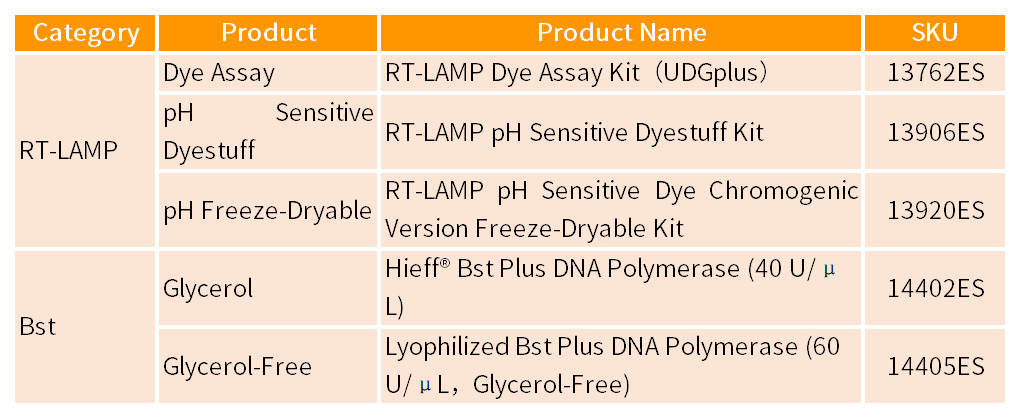 Related Product Recommendations